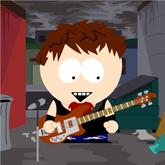 Mahan Vaz
Medical Physics graduation student, UNESP - Instituto de Bioci
Languages
Areas of Expertise
Medical Physics, Signal Processing
An idea worth spreading
I think people should care more about theirselves and about things that really are concerning, also living each day by itself, others than just looking for fast and efemerous happiness. Money doesn't buy evertyhing, and I think having nice moments are much more worthy than losing those moments to earn money. It may sounds like a cliche, but that's my way of living: Trying to know everything I can. Everyday, one new thing. Just that.
I'm passionate about
Arts, adquiring more knowledge, reading, meeting new people, specially those who have things to pass on.
Universities
Talk to me about
Music, arts, philosophy, good books, physics, mathematics, biology, astronomy, general interest. I'm interested in learning almost anything.
People don't know I'm good at