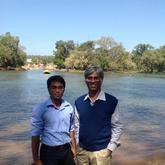 Bio
I am new to the world of knowledge at 21(slightly late I know).I recently fell in love with books and unbound human potential that we see everywhere around us.I love running,playing the guitar,keyboard,dark chocolate,coffee,healthy and wholesome food,books of all kinds and everything that makes me a better person than I was a day before.
An idea worth spreading
Nothing very inspiring,but do anything,if anything at all to satisfy yourself,not to impress.
I'm passionate about
Stuff that usually goes unnoticed,Music,Reading,Writing,Cooking,Running,Frugality,Knowing the 'Whats' and 'Whys' about things I come across
Universities
My TED story
My TED story began with the first TEDx event that my seniors organised in my college. I have been to TEDx events whenever they have been organised within places I can reach in a matter of under 12 hours, and have enjoyed each of my experiences. I am a regular follower of TED talks. Now, I find myself on my own journey to organize a TEDx event in my college in the near future, and subsequently do my part at spreading ideas worth spreading.