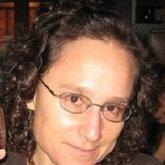 Katherine LeRoy
Co-Director & Curator, Steakfish International
Bio
For the past twenty years, I have worked as a cross-cultural consultant and creative arts instructor in a wide range of settings throughout Northern California and Southeast Asia.
In 2000, a year after traveling in Southeast Asia for the first time, I accepted a position at Yonok College in Northern Thailand. I focused on developing creative approaches to teaching EFL and facilitated all faculty trainings. My husband and I formed our company, Steakfish International, as an independent project during our lectureships at Yonok.
I recently returned to Asia and worked as Literature Department Head at Nakornpayap International School in Northern Thailand where I also co-directed the first TEDx event in the region.
As Education Director of Steakfish International, I partnered with schools, non-profit organizations and community-based organizations in training educators in the use of innovative, arts-based methods of teaching literacy, and in bringing meaningful cross-cultural coping tools to third culture teens and adults.
I currently work as High School Admissions Representative at Ex'pression College and volunteer at numerous TEDx events in the Bay Area including TEDxSF.
I'm passionate about
What's around the next corner. Poetry. Good food, good wine, good friends. Family. Global wandering. Canine creatures.