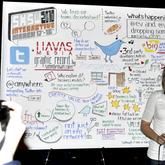 Sunni Brown
Author, Chief Infodoodler, sunnibrown.com
Bio
Sunni Brown was named one of the "100 Most Creative People in Business" and one of the "10 Most Creative People on Twitter" by Fast Company. She is founder of a creative consultancy called SB Ink, an international speaker, co-author of Gamestorming, author of The Doodle Revolution and the leader of a global campaign for visual literacy. Her TED Talk on doodling has drawn more than a million views on TED.com. Her work on visual literacy and gaming has been featured in the New York Times, Oprah, Time Magazine, The Wall Street Journal, CNN, the BBC, Fast Company, Inc. Magazine, and more. She lives in Keep Austin Weird, Texas.
TED Conferences
TED2015, TED2014, TEDGlobal 2011, TED2011
Areas of Expertise
Visual Thinking, Gamestorming, Graphic Facilitation, Closet Comedian, writer, Creative Direction, The Doodle Revolution
An idea worth spreading
VISUAL literacy may become as important as literacy in the future. The re-uptake of our native visual abilities is one of the best things we can do in service to learning and solving global, sticky problems.
I'm passionate about
Visual literacy, storytelling, subatomic reality, how the mind learns, survival strategies for getting through life and the development of higher E.Q.
Universities
Talk to me about
Emotional intelligence, whole-brain learning, perception vs. reality, the definition of sanity and your dog.
People don't know I'm good at
Because I don't suffer from an overdose of humility, most people know what I'm good at. The only exception: singing.
My TED story
My company was invited to participate as visual thinkers and graphic facilitators at TED 2009, TEDActive 2011 and TED Global 2011 and I was a speaker at Long Beach in 2011. I and was thrilled to be there, of course, and it was simultaneously the most nerve-wracking experience of all time.