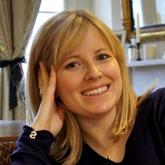 Susanna Halonen
Coach, Trainer & Speaker, Happyologist.co.uk
Bio
Coach, trainer and motivational speaker with international communications experience from employee engagement to project management to training workshops and more. Sports wise, a competitive dressage rider aiming for internationals.
A believer that happiness fuels performance and success, both in personal and professional lives. Interested in helping you reach your goals through a happy, balanced life.
Ready to change the world by:
1. Helping people develop & grow
2. Coaching for success
3. Creating happier workplaces
4. Doing work that matters
5. Designing beautiful experiences
6. Challenging the status quo
Languages
Areas of Expertise
Coaching , Speaking - Motivational, Consulting - Bringing the best out of employees, Training people & facilitating workshops, Writing - About happiness, fulfilment & performance
An idea worth spreading
Happiness fuels success and not the other way around. Life is too short to think about fulfilling your dreams later - you know never know when it's the end! Go for your dreams each and everyday as that's what makes life worthwhile. You can watch my TEDx talk on how you can do this by living a life full of passion: https://www.youtube.com/watch?v=_R236_kTYTs
I'm passionate about
People choosing to bring out the passion that's inside of them! Living life with passion brings out the best in you and the world wants to and deserves to see you at your best.
Universities
People don't know I'm good at
Riding horses - I've been doing it since I was 9 & I compete with Olympic ambitions.