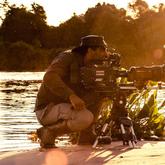 Cristian Dimitrius
wildlife filmmaker and photographer, Globo TV
Bio
My life-long mission is to inspire people to fall in love with our planet through his images, arousing the desire for knowledge and conservation of the place we all can call home. I'm a brazilian cinematographer, photographer, biologist and television presenter specializing in wildlife and natural history films around the world. On land or underwater, from ants to whales, my innovative cinematography and unorthodox camera techniques are helping revolutionize the way people see and perceive wildlife.I try to push the boundaries of wildlife filmmaking with still images and video sequences, made with the most advanced camera technologies available. In addition to several film credits, I shot & produced for the world's top television networks including the BBC, National Geographic, Discovery Channel, History Channel, Animal Planet & Globo TV.
Languages
Areas of Expertise
Wildlife, Cinematography and Photography, Gadgets, Natural History films
An idea worth spreading
Everything is possible when we put our mind and heart working in the same direction
I'm passionate about
Life, wildlife, Photography, Natural History documentaries and Biology.
Talk to me about
Leadership, human development, wildlife, conservation and evolution.