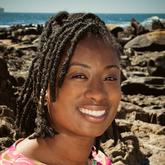 Waahida Mbatha
Founder and Executive Director, Khulula Foundation
Bio
Waahida Mbatha is an avid believer that an empowering pedagogy steeped in social justice is one of the key elements necessary to breaking the cycle of poverty. In 2011, Waahida co-founded the Khulula Foundation which aims to cultivate a cadre of change agents from economically disenfranchised communities by equipping them with the tools necessary to transform their lives and their communities. Waahida is extremely passionate and outspoken about social justice issues and has been a contributing writer for Rethinking Schools, a progressive United States publication that promotes equity in education. Waahida has also been featured on panel discussions around culturally relevant education and in 2012 gave a talk at TEDxBraamfontein on the importance of an education steeped in social justice. In 2012, Waahida was selected by the Institute for Democratic Education in America (IDEA) to serve as a member of the International Democratic Education Conference (IDEC) planning team and in 2012, Waahida co-founded the Change Agents Network, a platform for social leaders to engage and share ideas on effective methods of influencing the socio-economic advancement of humanity.
Prior to establishing the Khulula Foundation, Waahida worked for seven years as a middle school humanities teacher and as an after school programme coordinator, most recently at E.L. Haynes Public Charter School in Washington, DC. Waahida holds a Masters of Science in Education Policy and Community Studies from the University of Wisconsin-Milwaukee, where she was an Advanced Opportunity Fellow and a Bachelor of Arts degree from Berea College in Education.
Areas of Expertise
Education Policy & Research, Social justice education, Anti-racist Education, Event Planning & Management, Writing, Poetry as a tool for social change
An idea worth spreading
Teaching must be an act of social justice designed to empower students with the content knowledge and non-academic skills necessary to effect the change they seek in their own lives and to serve as change agents in their communities in the promotion of a more just world. The name of the foundation that I co-founded is the Khulula Foundation, Khulula means "to set free" in Zulu and our overarching goal is to enable learners to attain the freedom that an academically challenging education steeped in social justice can bring. In this environment learners will be engaged in course work designed to prompt them to question and think critically about the world around them.
I'm passionate about
Social Justice, Anti-Racist Education, Alexandra, Washington, DC, Kentucky, Life!
Universities
Talk to me about
US Education, SA Education, Social Entrepreneurship, Education Policy, Data Driven Instruction, Classroom Management, Usher, Paulo Friere,
My TED story
Earlier this year a friend sent me a link to Chimamanda Adichie: The danger of a single story and I have been hooked on TED talks every since! On June 13, 2012, I had the opportunity to speak at the TEDxBraamfontein Salon in Johannesburg, Gauteng. The theme for the Salon was Re-Imaging Education and my topic was Teaching Towards Social Justice. During my talk I highlighted the importance of instruction being towards justice as opposed to maintaining an attitude of neutrality in the classroom, specifically as it relates to the history classroom. I also focused on culturally relevant teaching practices that put our students at the center of teaching and learning as opposed to subtracting them from the curriculum.