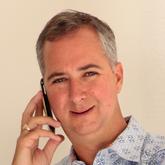 Cameron Herold
Founder, www.BackPocketCOO.com
Bio
Cameron Herold has been a
GROWTH GURU to MULTIPLE $100+ Million DOLLAR COMPANIES
Cameron is one of the most sought after business minds in North America. For over 20 years, Cameron Herold has been coaching the top entrepreneurial CEO's on the planet guiding them through the process of hyper-growth.

As Chief Operating Officer (and employee #14), Cameron took one of the most successful new business ventures of the last decade-- 1-800-GOT-JUNK? -- from just over $2 Million in annual revenues, to $106 Million in just seven years-- with no debt or outside shareholders. His innovative business leadership helped enable the company to build a rock-solid foundation then grow at 100% year over year each year, and through that hyper-growth phase, develop his trademark corporate culture and in 2005, they were honored to be a case study at Harvard Business School. Upon Cameron's departure from the company, a year-long search was started, and the former President of Starbucks was brought on board as his replacement.
Prior to growing 1-800-GOT-JUNK?, Cameron was a driving force behind building three major companies- College Pro Painters (the largest residential house painting business in the world), Boyd Auto Body (the largest collision repair shop in North America), and UBarter.com, which they sold for $42MM just before the tech bubble burst.
Overall, he's accumulated 25 years of real life experience since starting his first real company at 21. His successes (and yes, the occasional failures too) have given him insights into tried-and-true systems that work. He has a unique understanding of growing companies, having led business areas from Operations, Marketing and Public Relations to Strategic Alliances, Sales and Call Centers.
His work has helped companies be featured in the Associated Press, Bloomberg, USA Today, New York Times, Wall Street Journal, Fast Company, and Fortune, as well as TV shows like Donny Deutsch, Oprah, and Dr. Phil.
Building a successful brand and hyper-growth business isn't about personality or luck. It's about having the right systems. Cameron can give you the framework and proven solutions that will accelerate your revenue, build your profitability, and help you avoid costly problems. It really is like having a COO right in your back pocket!
Languages
TED Conferences
TEDActive 2014, TED2011
Areas of Expertise
Entrepeneurship
An idea worth spreading
Kids have dreams. You can notice traits in kids, that they'll still have 30 years later. Entrepreneurial traits can be noticed & nurtured in the children who have them.
We should be looking to raise kids to be entrepreneurs, NOT lawyers.
I'm passionate about
My wife Kim
Entrepreneurship
Our 2 Boys Aidan & Connor, and our 2 Girls Hannah & Emily
My friends
Whistler, Skiing, Golf & Tennis
Keeping it Real
I'm non-PC
Atlas Shrugged
Burning Man
Universities
Talk to me about
My TEDx talk - Raising Kids to Be Entrepreneurs, Instead of Lawyers.
Your Passions
How my wife and I met due to my TED Talk
People don't know I'm good at
Intuitively reading situations & people.
Teaching entrepreneurs - I've three times been rated the #1 lecturer at the EO/MIT Entrepreneurial Masters Program, and lectured at it over a dozen times.
My TED story
I've been a Tedster for years now.
Recently I gave this talk at TEDx Edmonton http://www.ted.com/talks/cameron_herold_let_s_raise_kids_to_be_entrepreneurs.html and I'd love to present it at the main TED event to inspire our world to think of entrepreneurs as a profession that kids should aspire towards like they currently do with lawyers, doctors, teachers etc.