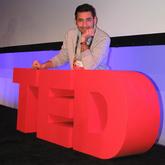 Reza Ghiabi
Organizer @ TEDxTehran, TEDxTehran
Bio
Reza Ghiabi is an entrepreneur, event organizer and management consultant for start-ups, small businesses, organizations and individuals. Reza gives consultant to various firms, from international trade companies to NGOs. He is the organizer of the TEDxTehran and program director of TEDxYouth@Tehran.
Reza is also co-founder of the TICK language club, exploring the potential of individuals to Talk, Interact, Challenge and leveraging community's Knowledge to teach English and build value.
He recently co-founded and became co-organizer of Tehran Art Walk, an event and soon to be organization to help young and talented Iranian artists to reach their highest potential.
When he isn't glued to a computer screen, he spends time watching and translating TEDTalks, attending social events and jogging.
Reza holds MBA in information technology from Industrial Management Institute of Iran and a BS in industrial engineering from Qazvin Azad University.
TED Conference
TEDActive 2014
Areas of Expertise
Event Planning & Organizing, Entrepreneurship , Management Consulting, Business Process Architecture
An idea worth spreading
Let's make world a better place by spreading good thoughts; person to person, heart to heart. Let's not rush to "mark" others, let's be simple, honest and truthful.
Let's find out why we are who we are, what to do with our lives and how to do it in time.
I'm passionate about
Communities; the synergy of individuals with the same vision; interaction of ideas worth spreading. Oh, and coffee. Black.
Talk to me about
Your TED story.
Your moments of engagement.
How to reach people to their highest potential.
People don't know I'm good at
Playing Santoor (Iranian music Instrument)
My TED story
It all started in 2007, when I watched a TEDTalk named "The Paradox of Choice" by Barry Schwartz for the first time.
At the time I was confused, I didn't know anything about my desires and expectations. I was trying to fit in to "routines", not sure if I WANT them or not. That simple low quality talk by that simple wise man, changed my life: I chose to be simple. I try to think simple and act complex.
Being a part of TED community, watching, translating and sharing TEDTalks, contributing in TED conversations and other TED activities is a part of my daily life. I hope and help TED change other lives as well as mine.