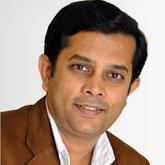 Raam Anand
President & CEO, infoYOGIS Technologies, LLC
Bio
Raam Anand, a well known Internet Marketer, Author and Speaker, is popularly known as the Online Marketing Strategist. He trains people, coaches his students and leads them in their businesses and helps them achieve their dreams.
Raam founded infoYOGIS, an Internet Marketing Agency, considered today as Asia's LARGEST in terms of size and employs more than 100 full time online marketing experts.
He was involved in systems programming to some of the leading banks and financial institutions in core areas like online banking, ATM interface, asset management, online transaction processing, inter-branch networking and so on.
Since 1992, Raam has served in leading positions like Technical Director of PSL, Managing Director of Tempus Data Services, CEO of infoYOGIS, besides being an active adviser to several leading financial institutions and marketing companies.
Raam stepped into Internet Marketing in the year 2003 and since then, he has published several highly successful software programs, eBooks and special reports. His home study course - Site Launch System - received a lot of praise and started a new market in the industry that many other people followed.
His Content-N-Cash software program sold several hundred copies and his Internet Marketing services has attracted accolades from leading marketers.
Raam is also the go-to expert for designing and implementing SALES FUNNELS for businesses. He has helped people get more targeted leads, convert many of them into paying customers and gain tons of credibility, by implementing strategic SALES FUNNELS. Business owners seek Raam's insights in developing effective Sales Funnels because of his vast experience, marketing know-how, strategic techniques he brings in, powerful psychological mental triggers that he adds to the equation and most importantly, it works brilliantly in achieving their online marketing goals.
Raam is the creator of Million Dollar Site Launch System, a home study course that includes his world-famous i5 Framework to launch and promote websites, available at http://www.SiteLaunchSystem.com
Raam's company, infoYOGIS, employs over 100 full time experts and caters to the SERVICES industry, with clients from all corners of the globe, including the US, the UK, Germany, France, Australia, Belgium, Italy, Denmark, New Zealand, Canada, Mexico, Brazil, Hong Kong etc.
Hundreds of clients have sent unsolicited testimonials and loads of appreciation for his efforts and -thank-you-notes- for his valuable and timely advice on Search Engine Marketing, SEO, Social Media Marketing and Internet Marketing.
Raam regularly speaks at Internet Marketing seminars and conduct workshops, bootcamps and mastermind sessions. As the CEO of infoYOGIS, he also provide consulting services for large companies throughout the world.
Other than being a sought-after coach, thoughtful trainer and a well-known business leader followed by his students, Raam is also serving as the managing trustee of a non-profit institution, engaged in charity, education and research.
Areas of Expertise
Social Media, Online Marketing, Author - Speaker, Business Leadership and Management, Marketing and Sales, Writing and Speaking- about anything dealing with the experience, Digital Marketing | Social Media | Internet & Mobile Marketing, Internet Marketing Consultant, Coach - Business, Internet Marketing Trainer
An idea worth spreading
"NOBODY should be living below their means"- India is the land of the rising billion and "India Needs Millionaires" - Making money is not a sin. It can create a lot of new opportunities and makes life easier for not only the person who earns a lot of money but also cascades into several layers down the line. Instead of teaching our children, especially in India, to study well, find a job, get married, raise a huge housing loan and spend the rest of their lives struggling to clear debt and raise their children and pushing them into the same rate-race.... they need to be taught about ENTREPRENEURIAL attitudes. Provide our young children with key KNOWLEDGE, SKILLS and EXPERTISE to raise above and have fulfilling lives than teaching them to living below their means.
I'm passionate about
Teaching, Coaching and Sharing my experience. I have traveled the world twice and run my own IM Agency, considered as the LARGEST in Asia and I'm passionate about teaching people replicate my success.
Talk to me about
Speaking at events, Entrepreneurial education, Mentoring youth, Starting and running businesses, Online Marketing, Social media and of course, writing and educational activities.
People don't know I'm good at
Mentoring, Speaking, Coaching and Training.