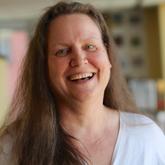 Bio
As Online Engagement Strategist for World Resources Institute, Laura Lee Dooley focuses on social media and online community building, web analytics, and online strategy and development.
An idea worth spreading
"Our deepest fear is not that we are inadequate. Our deepest fear is that we are powerful beyond measure. We ask ourselves, Who am I to be brilliant, gorgeous, talented, fabulous? Actually, who are you not to be? We were born to make manifest the glory of God that is within us. And as we let our own light shine, we unconsciously give other people permission to do the same." - Nelson Mandela
"Many vegetarians eat meat, environmentalists don't recycle, employees don't work, and Christians don't read their Bibles. Ideals are what you want; values are what you do. Ideals become values only if they are lived out" ~ Mark Driscoll
"There is enough for everyone's need, but there is not enough for everyone's greed." ~ Mahatma Gandhi
"Vocation comes from the same root as 'voice', denoting the hearing of a divine call." and "Community is what we are created for. We are made in the image of a god who is community, a plurality of oneness." -- Shane Claiborne
I'm passionate about
People and the environment
Talk to me about
Anything inspirational or instructional. How can I help you be a better person? Live a better life?