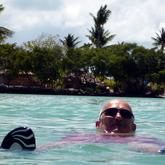 Dennis Pack
IT Support, Australian Volunteers International
Bio
Currently on a 2 year volunteer assignment at the Marine Training Centre in Betio, Tarawa, The Republic of Kiribati. Previous experience includes 30+ years of teaching Science, Biology, Chemistry, ICT, and Geography in the US (Oregon and Texas), Australia (South Australia), and Paraguay (Asuncion). I am so glad I have found this little piece of the Pacific where the people are so wonderful and the lifestyle simple and sustainable. And absolute privilege to be here. Sad that Kiribati may be one of the first countries to succumb to rising sea levels, being less than 2 metres above sea level. The world will lose a truly wonderful culture.
An idea worth spreading
Sir Ken Robinson's talk on how current education practices destroy creativity in students ... I'd add teachers, as well!