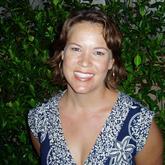 Claire Fackler
National Education Liaison, NOAA Office of National Marine Sanctuaries
Bio
Claire Fackler has been working for the National Oceanic and Atmospheric Administration's (NOAA), National Ocean Service since 1999. Currently as the National Education Liaison for the NOAA Office of National Marine Sanctuaries, Her work helps bring the ocean into America's classrooms, as well as to inspire ocean and climate literacy and conservation through national marine sanctuaries. She works with various partners, such as National Geographic Society and One World One Ocean Foundation on national and regional educational programs that enhance public awareness, understanding and appreciation of the marine environment. Though unconventional, Claire has a bachelor of arts in psychology from the University of California, Santa Barbara, yet her passion for ocean conservation puts her in the marine education line of work.
Born and raised in the Hawaiian Islands, Claire developed a passion for the environment, particularly the ocean, at an early age. Opportunities to assist with Hawaiian green sea turtle research in Hawai'i, pinniped (seals and sea lions) rehabilitation in California and other exciting projects provided valuable field experience and an ambition to promote ocean conservation.
Her interest in photography and telling stories through compelling images grew during a six-month trip around the world when Claire began photo documenting her personal experiences to share with others. With an Olympus Stylus 3.2 mega-pixel camera, and her first off-the-shelf underwater housing, she was able to expand her photography to capture the beauty of many of America's underwater treasures—our national marine sanctuaries.
As an avid diver who spends time underwater for work and for fun, Claire captures images ranging from playful sea lions in the kelp forests of the Channel Islands to basking green sea turtles in the Hawaiian Islands. During a 28-day research trip to the Papahānaumokuākea Marine National Monument in the Northwestern Hawaiian Islands in the summer of 2006, Claire saw first-hand the human impacts to the marine life and sea birds of these remote, uninhabitated atolls and islands. Through that experience, she now feels strongly to not only share images of the splendor and magnificence of the ocean world, but the tragic impacts humans are having on our blue planet.