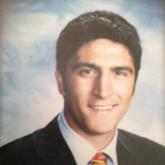 Josh Mayourian
Student , Cooper Union for the Advancement of Science and Art
Bio
I'm a Sophomore Chemical Engineer at Cooper Union. I plan on minoring in mathematics and biomedical engineering. Hopefully one day I will become a doctor.
Education: THE COOPER UNION FOR THE ADVANCEMENT OF SCIENCE AND ART New York, NY
Bachelor of Engineering, Chemical Engineering, Projected May 2014
Relevant Coursework: General Chemistry, Organic Chemistry I/II, Physical Chemistry, Mechanics, Bioengineering Application to Sports Medicine, Biological Systems, Bioelectricity
Project Work/Research: Organic Synthesis of Compounds for the Inhibition of HIV-1 via TAT-TAR Interaction
Winter 2011-Present
Data Collection for Intertrochanteric Fractures Treated with PCCP
Summer 2011
Design of Entertaining and Effective Exercise Machines for Obese Teens
Fall 2010

Experience: COOPER UNION, New York, New York
January 2012-Present Tutor Assisting Freshmen and Sophomore students in Mathematics (Calculus I, II)
ELMHURST HOSPITAL, Jackson Heights, New York
July 2011 – August 2011 Volunteer Observed Orthopedic Surgeons. Assisted Data Collection for Intertrochanteric Fractures Treated with PCCP

SELF EMPLOYED, Roslyn, New York
September 2009 - June 2010 Tutor Instructed students in Physics, Math, Chemistry

SID JACOBSON JCC, Roslyn, New York
February 2009
Hurricane Katrina Relief Volunteer Helped rebuild houses in New Orleans post-Hurricane Katrina
BETH SHALOM DAY CAMP, Roslyn, New York
June-August 2008, 2009
Lifeguard, Instructor Obtained 1A lifeguard and CPR certification. Monitored pool and checked pH of pool. Instructed children on all different levels how to swim.
CHABAD OF PORT WASHINGTON, Port Washington, New York September 2008
Nursing Home Assistant
Assisted the elderly with accomplishing daily tasks
Skills: • Laboratory Equipment: Analytical Balance, Gas Chromatograph, Mass Spectrometer, Absorption Spectrometer • Computer Programs: Microsoft Word, Microsoft Excel, Microsoft PowerPoint, Microsoft Outlook, AutoCAD, Solidworks, Python, QBasic64
• Languages: Fluent in Hebrew and conversant in Spanish
• CPR certified
Honors: • The Cooper Union, Dean's List, Fall 2010, Spring 2011, Fall 2011
• The Cooper Union, Full-tuition scholarship, 2010-2014
• Unsung Hero, 2010
• Long Island Math Fair, Silver Medal, 2009
Memberships: • The Cooper Union Basketball Team, Point Guard
September 2010- Present
• Zeta Psi Fraternity of North America, Treasurer
January 2011-Present
• The National Society of Collegiate Scholars
January 2010-Present
Areas of Expertise
Chemical Engineering, Mathematics, Biomedical Engineering
I'm passionate about
Soccer, basketball, education, exercising, video games, monopoly, pictionary, volunteering, medicine, math
People don't know I'm good at
Mario Party 2. I hardly ever lose mini games (never lost the ice skating and baseball challenges)