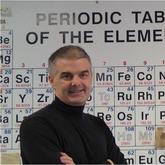 Jon Bergmann
Lead Technology Facilitator, Joseph Sears School, ISTE/International Society for Technology in Education
Bio
Jon Bergmann has spent 25 years as a high school science teacher. He received the Presidential Award for Excellence for Math and Science Teaching in 2002 and was named a semi-finalist for the Colorado Teacher of the Year in 2010. He is the lead technology facilitator for the Joseph Sears School in Kenilworth, Illinois.
Languages
TED Conference
TEDActive 2012
An idea worth spreading
Flipped Classes are being implemented around the world. I have had a chance to speak and share about my six years as a flipped teacher and have much insight into what is, and what isn't good examples of flipped learning.
I'm passionate about
Student Centered Learning, The Flipped Class, my family, triathlons, and my faith,
Universities
Talk to me about
Flipped Class Learning, Students as Problem Finders, The Connected Educator
People don't know I'm good at