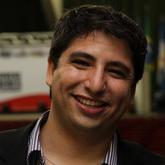 Alfredo Júnior
CEO | Co-Founder, Impact Hub Recife
Bio
Alfredo Junior is the Co-founder and CEO of Impact Hub Recife, a company that provide the spaces, resources, connections, knowledge, talent, markets, and investment that turn intention into impact. In every community we work with, wherever we are, we commit to awakening the imaginations, livelihoods, and economies of our surroundings--enabling collaborative action towards sustainable impact. Spanning the physical and virtual environment of entrepreneurship, Impact Hubs are a driving force within the global movement creating a better world. Alfredo is a physicist by Graduation and an Entrepreneur by heart. Holds a Masters in Nuclear Engineering by Federal University from Pernambuco and is passionate about the creation of Business with means of Purpose. Alfredo founded his first company, called StandService Promotional Architecture, at the age of 18, during a 06 months strike at UFPE. The company started initially renting furniture for corporate events and after 08 year in the market, became one of the leading Promotional Architecture companies in Brazil. Alfredo is the youngest Facilitator of the United Nations programme established by UNCTAD's Division of Investment and Enterprise to promote the creation of sustainable small-and-medium-sized enterprises (SMEs), called Empretec. Alfredo is also the Sandbox Ambassador for Recife, a mobile society of the world's most extraordinary young game changers, and in 2013 was invited by the the U.S. State Department in partnership with the Entrepreneurs Organization (EO) to represent Brazil on an International Visitors Leadership Program called: A New Beginning: Entrepreneurship and Business Innovation, which took 30 leading entrepreneurs from 30 different countires to the United States to exchange best practices with American business owners, investors, government officials, educators and other business stakeholders.
Languages
TED Conference
TEDActive 2013
Areas of Expertise
Enterpreneurship, Events Organizer, Business Development, Strategic Planning
An idea worth spreading
I believe that a better world evolves through the combined accomplishments of creative, committed, and compassionate individuals focused on a common purpose. Impact cannot happen in isolation, it requires collective action.
I'm passionate about
Entrepreneurship, Business with means of Purpose, Community Management, Impact Generation, Collaboration and Empowerment, Scuba Diving, Hamburgers, Beer and Barbecue!
Universities
Talk to me about
Global Communities, Impact Generation through Business with means of Purpose and all the things that I'm passionate about.
People don't know I'm good at
Please tell me if you find something!