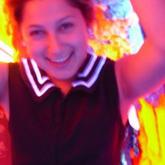 Morton Bast
editorial coordinator, TED
Bio
Morton Bast comments, proofreads, fact-checks, moderates, reads, writes and reasons for TED.com. She has a B.A. from Washington University in St. Louis, a thirst for knowledge, and a medium-sized collection of Hello Kitty paraphernalia. She is also a New Yorker, for which there is no known cure.
I'm passionate about
Creating community, learning new words, downtime, walking as a means of transportation, diversity, toothbrushing, family.
Universities
Talk to me about
religion, adolescence, chick lit
People don't know I'm good at
geography, untying knots, rhyming