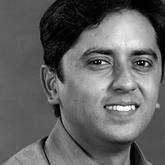 Faisal Chohan
Co-Founder BrightSpyre.com, Co-Founder Cogilent Solutions, Found, BrightSpyre.com
Bio
Faisal is a technology and social entrepreneur from Pakistan. He is one of the early innovators of online businesses in Pakistan. Recently, during floods in Pakistan, he lead the flood incident reporting and mapping initiative Pakreport.org. In 2002, he co-founded technology enterprise Cogilent and BrightSpyre.
Faisal was finalist in the Nokia's Growth Economy Venture challenge in 2010 and MIT BAP in 2008. Faisal is Country leader at herdict.org ( Berkman Center) and Senior Fellow at TED.
Faisal's passion is to scale technology in the developing countries.
TED Conferences
TEDGlobal 2012, TED2012, TED2011, TEDGlobal 2010, TED2010, TEDIndia 2009, TED2009
Areas of Expertise
Web 2.0 Innovation, Entrepreneurship and Startup Management, Innovation and creativity techniques
An idea worth spreading
Better implementation of the developed world innovations, ideas and solution sets in developing countries.
I'm passionate about
I am passionate about
1. Improving Pakistan and developing countries using the power of technology
2. Innovating solutions to change lives of billions
People don't know I'm good at
1. Implementations 2. My passion about changing lives of billion peope.
My TED story
My TED story starts with one word i.e. "Change". For me this is not just attending a conference, visiting a new country or meeting new people but it's a complete change of my life, thoughts and future actions. The story starts now, and I am in a totally different environment and thought process. How a 32 years life changes in just a few days. This inspired by TED, the people working at TED, TED fellows and people I will be meeting at TED.