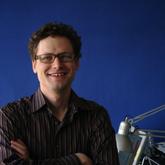 Jake Barton
Principal and Founder, Local Projects
Bio
Jake Barton is principal and Founder of Local Projects, which is creating the media design for the 9/11 Memorial and Museum, the Cooper-Hewitt National Design Museum with Diller Scofidio + Renfro, and the Frank Gehry designed Eisenhower Presidential Memorial. Local Projects is a three-time National Design Award finalist, and was named second of the top ten most innovative design firms by Fast Company Magazine for its redefinition of emotional storytelling. Jake is recognized as a leader in the field of media design for physical spaces, leading to a Gates Foundation funded next generation learning platform, developed in partnership with the New York Hall of Science. Clients include SFMOMA, StoryCorps, Cleveland Museum of Art and Seaworld.
TED Conferences
TED2013, TEDActive 2010
An idea worth spreading
Using new emotional and technological ways to connect with art. At Gallery One, a new project for the Cleveland Museum of Art, we us facial detection to browse the canon of works of art. We developed a way for people's emotion and identity to be leveraged to create connections with artworks on the most human level. We also allow people to draw a shape, and have it draw forth parts from the collection, as well as a piece of body-detection which connects with figurative sculpture.
I'm passionate about
Reinventing public space through media, offering meaning and delightful connections from Memorials, to Times Square to art installations.
Talk to me about
New ways to think about experiential learning and how it can connect to technology and design.
People don't know I'm good at
Making gelato in all crazy flavors and quantities.