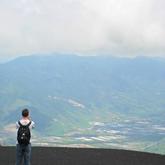 Rowan DeBues
Undergraduate - Political Science, University of Toronto - Faculty of Arts and Science
Bio
Salutations! I was born in the UK, however I moved to Canada when I was eleven. I am currently doing a double major in Political Science and in English at the University of Toronto (specifically Victoria College). While I don't have the right kind of brains to study it properly, I take great enjoyment out of reading about the latest and greatest scientific innovations. I am definitely a sucker for the science fiction, however much more likely to write a novel about it than bring it into reality.
An idea worth spreading
Shut up, quit whining and find a solution to the problem (that isn't racist, homophobic or leads to mass murder and/or genocide).
I'm passionate about
Biggest extra-curricular passion in my life is rugby. I live and breath the sport and would have to admit to following nearly 100 players on twitter...
Universities
Talk to me about
Whatever you want to talk to me about. Just speak in a language I will understand (not mathematical equations in other words...)
People don't know I'm good at
Diffusing tense situations