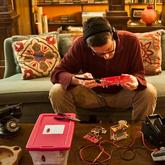 Gregory Gage
Co-Founder, Backyard Brains
Bio
I am a DIY Neuroscientist who enjoys designing low-cost experiments that teach the basic principles of the brain. I co-founded Backyard Brains a few years ago to bring our neuroscience inventions to high schools, middle schools and the public. The "Aha!" moment was when we realized we could use insects easily in the classroom. Bugs have very similar neurons to ours. So in learning about their brains, we are in fact learning about our own!
The brain is a mystery to most people. The goal of our work is to make it easier for the public to inquire about neuroscience through hands-on experiments. So what are these experiments, exactly? Low costs versions of electrophysiology (Seeing and hearing the brain of insects on your iPad), functional electrical stimulation (making muscles move using an iPod), micro-stimulation (a remote-controlled cockroach), neuropharmacology (Cigarettes have nicotine, nicotine binds to ACh receptors), and even optogenetics!
Come talk to me at TED. Chances are I will have some experiments with me. If you've never heard a spike before... I will show you. We've demonstrated what our brain sounds and looks like to over 15,000 people! We are always looking for more.
Languages
TED Conferences
TEDGlobal 2014, TED2014, TED Fellows Retreat 2013, TEDGlobal 2013, TED2013, TED2012
Areas of Expertise
Electronics, Neuroscience
Universities
Talk to me about
Talk to me in Spanish. I just moved to Chile last year. I am trying to learn!