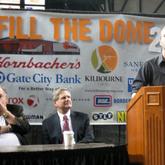 Bio
Ten days into his college career at the University of Minnesota, Greg launched a vision with three friends to change the world. These four students worked to create a Pay It Forward Tour, a community service project on wheels. Since its inception, Students Today Leaders Forever (STLF) has sent out 391 Pay It Forward Tours with 15,506 participants performing a collective 217,000 hours of community service. Students Today Leaders Forever won the first ever Minnesota Social Entrepreneurship Cup in 2008. That September, TIME Magazine listed STLF as the #2 way to Serve America.
Greg spent seven years building STLF focusing on growth and expansion. Greg serves on the Wisdom Council for Volunteerism.org, was the advisor of the Metro Student Council Ambassadors of Fargo Moorhead. In his three years of service, his students have led the Fill the Dome project collecting a total of 200 tons of food and raising over $150,000 and appearing on Good Morning America each year. He also served as a board member of the Metro Youth Partnership of Fargo Moorhead and GiveMN.org out of Saint Paul. He spent two years teaching leadership classes at the University of Minnesota. His personal mission statement is simple: To challenge, inspire and encourage young people to live a life of excellence.
Greg recently returned to the United States after 11 months of traveling. He walked 1,150 kilometers through Spain and Portugal on the Camino de Santiago, jumped out of a tree and broke his ankle in Australia trying to impress a group of kids, and spent 6 weeks in Burkina Faso working with the Peace Corps. He has an adventurous spirit, is curious about life, and believes everyone must travel to North Dakota. Upon his return, he gave his first TEDx talk, "Unlearning Curve" at TEDxTC.
Greg is a Fellow for Kilbourne Group out of Fargo, a group committeed with a mission of providing thought leadership on the revitalization, smart growth and redevelopment of Fargo, North Dakota's downtown core.
TED Conference
TEDActive 2013
An idea worth spreading
Wondering, what would it the world be like if each person was part of a tribe? had a personal board of directors? was mentored? was a mentor?
I'm passionate about
Social Innovation. Service. Youth. Intergenerational relationships. North Dakota. Start ups.
Talk to me about
Spreading TED in North Dakota.
People don't know I'm good at
Bringing people together.
My TED story
Followed TEDxTC while living in Minneapolis. After traveling outside the US for a year, I was invited to speak at TEDxTC as I was moving to my hometown of Fargo, ND. At this time, I began planning TEDxFargo with the support of Chadburn from TEDxTC. Gave my first TEDx talk in November 2011.
Favorite talks