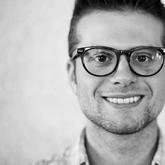 Corey Mohr
Community Associate, TED Fellows & Community
Bio
I graduated from a town of 2k and a class for 40 (we were consider a large class; the one after me had 27). I've worked in politics and then found my way to TED where I started out on the TED Prize team. Today, I'm on the TED Fellows team; if you see Tom Rielly, I'm sure to follow.
Languages
TED Conferences
TED2014, TED2013, TEDGlobal 2012, TED2012
Areas of Expertise
Books, books, books, books..., LGBT Politics, Politics & current affairs, TED Fellows, TED Book Club
An idea worth spreading
One of my favorite things TED does is Ads Worth Spreading. In a society bombarded by commercial propaganda, we desperately need to change the tone and direction of our advertising industry. Why just sell a product when you can promote an idea? Also...let's make Election Day a national holiday. And while I'm at it, let's get rid of the penny.
I'm passionate about
Politics, film, books, conversation, finding the best restaurants in NYC, advertising, ads
Universities
Talk to me about
TED Books, films, politics, TED Fellows, TED Book Club, LGBT issues, advertising, ads
People don't know I'm good at
My TED story
I came to work for TED on a complete fluke. In fact, the story is pretty fun, and as with most stories in my life, it involves another TED employee; Jordan Reeves. Ask me all about it in person! :-)