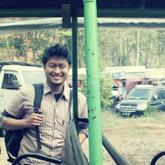 Agnan Zakariya
Web 2.0 Strategy , Z.A.KT under | AERT
Bio
Art + Science = Genius,
Zakariya Soewardi is an illustrator, designer, photographer, writer, and web designer. His work involves play, elevating the everyday to a special status, and a hearty enthusiasm for nonsense and alogical thinking.
He writes things through the lens of idealism spirit on his blog, as his museum zakariyasoewardi.tumblr.com. Publishes blips of signal and noise on Twitter, post photos and illustrations on Picasa, and active at social media on Facebook and Google+.
He lives in Garut, West Java, but used to live in Jakarta, Central Jakarta, and Bandung, West Java.
www.zakariyasoewardi.co.uk
Languages
Areas of Expertise
UI and UX Design, Web Design / Web Development, writer
An idea worth spreading
Berpikir dan berekspresi adalah hak setiap manusia. Melalui menulis, hak-hak itu bisa disalurkan. Menulis menembus batas ruang dan waktu. Menulis memotong hirarki keningratan dan kasta ekonomi. dengan menulis ilmu pun diikatnya. (in Bahasa Indonesia)
I'm passionate about
illustration, design, photography, paper, web design, mobile technology, high technology and cinematography
Universities
Talk to me about
Learn The ideal of Freedom in life from Buddha, Learn trust feelings from Christian Catholic, Learn Intuitive feelings from Hinduism Mahadeva Shri Vishnu, And Learn smile as Ultimate faith to Allah.
People don't know I'm good at
The Essence of my idealism as an Ideology, Where I Love Art + Science = Genius, spreading everything to peoples with "free knowledge for free minds" this is will be save ours & others from "poverty".
My TED story
Join to beginning come-on superstar!