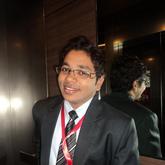 Rohan Mathankar
Business Intelligence Analyst, Bharat Petroleum Corporation Limited
Bio
Summary:
• Functional analyst with varied work experience, seeking a challenging positions in areas of intra functional expertise, Business Intelligence and Business Analyst
• Experience in the Fields of Petroleum Operations, Projects and SAP MM module.
• Engineering & Projects' professional, worked with Bharat Petroleum Corporation ltd – Navratna Status Company of India
• Assisting 'Dott Group' as knowledge consultant for designing Intranet product as a consultant (Free Lancer)
 Highest project handed individually valued 500Lacs
 Adept in handling data, acquiring functional knowledge in co-ordination with internal/ external departments for smooth business operations
 Posses' competitive interpersonal, communication and organisational skills

Competencies Developed
 SAP Platform: SAP MM Module tool covering all aspect of Purchase Requisition (PR); Goods Receipt(GR)/Issue(GI); SES; LIV; use of Vendor Service Master all complete with accounting of project till its closure.
 User Requirement: Analysing business, understanding business problems and retrieving data, Estimating and forecasting the user's requirement by analyzing the data. Understanding users requirement and provide them with different solutions in LPG, Petroleum Domain.
Project Management: Completing the assigned task within the stipulated deadline and allocated funds which starts with initiation, planning, execution till handing over to user. Guiding the cross functional team for the success of the project.
Work Exp - Profile:
Organization: Bharat Petroleum Corp. Ltd.,
Navratna Status Company
Domains Worked:
• Engineering & Projects
• SAP MM
• Business Analysis & Development
• Govt. Licenses Approvals / Amendment
Designation
Project Engineer.
Roles Played
 Site Engineer
 Analyst
 Project Co-Facilitator
 Tendering/ Estimates/ Govt. Proposals/ Licenses
 RFQs/ PRs/ POs/ IVs/ Assets Mgt in SAP MM-FI
 Website Developer
Profile
• Meeting with users, understand business Unit, gathering data & requirements, forecasting the business needs and accordingly provide with alternative solutions, get scheme finalized, estimate cost requirements, tender packages, award of job, adherence to mandatory norms, standards and quality requirements while executing projects.
• Projects Handled
 Major Projects (>50Lac): Analysis for & execution of 24 station Electronic Carousel & Down Stream Equipments, Installation & Design & Installation of gantry, MCC Panel design, 2X600MT Mounded vessels, ATF pipeline for Aviation station, POL Tanks
 Minor Projects(Business need analysis & Installation of 500-1000KVA DG sets, Transformers, 500cfm Air/ LPG compressors, Dryers, LPG Pumps all with complete safety fittings and associated piping works.
• Responsible for maintaining the safety of workers, employee and environment.
• Verifying and approving the expenditures for projects & accountability to finance & CVC Commission.
• Understanding the civil, electrical and mechanical aspects and synchronizing them effectively & sole responsibility for complete project
PGPM: Post Graduate Program in Management
( Specialization – Business Intelligence)
Under certification of EDUCATIS University, Switzerland
USP:
Course Methodology –Harvard Business Publication case studies & Simulations
Online Harvard Business courses with evaluation
Only college in India providing specialization in Business Intelligence
Skills Enhanced
Critical & Analytical Thinking
Data Analysis & Decision Making
BI aspects in industries
BI tools and Query languages
IT Forte
 SAP- P01MM/FI module, Visual Studio (website development)
 AutoCAD , Solid Works
 PL/SQL with Oracle 10g
 Well versed with MS Projects & Microsoft office
Accolades
 Indian representative to World Entrepreneurship Forum 2011, Singapore & Organising team leader of JWEF, Pune.
 Runner up in "UNLEASH THE CEO-2011" event
 Managing team member of Guinness book of world record
 Featured on Europe Asia Business School website
 1st /2nd / 3rd Prize in CONTRAPTION EVENT (working model with energy conversion) in an All India Level Competition (Nexus/Fervor/Minds-Spark) in 2005, 2006 & 07.
 Event head of the National Level Technical Event organized by the College of Engineering, Pune in 2007 & 2008.
More from within
 Hobbies - Freaking out with friends, Driving dirt Bikes, Unique numbered currency collection (notes & coins) Collection, building Vocabulary.
 Blogger: www.rohamathankar.blogspot.com
Personal Details
 DOB: 17-03-1987.
 Marital Status: Single
 Languages Known: English, Hindi, Marathi, and French.
Areas of Expertise
Mechanical Engineering, MBA Business Analyst
Talk to me about
Intranet designing and maintaining - I am knowledge management expert ; Entrepreneurial ideas - Active member of world entrepreneurship forum ; Business intelligence & analysis - MBA in Business Intel
People don't know I'm good at
Playing Guitar ; Numismatic ;