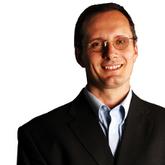 Tony Gruber
Projected Financial Statements.com
Bio
I was born in 1962. Grew up in a poor section of Southern Ohio.
I live in Central Ohio. I've been married since 1987 and have two kids, born 1990 and 1998.
My personal and political philosophy can be simply stated as Objectivism. I believe the world can be objectively observed, and objectively understood.
I am a Christian (born again). I'm aware of the apparent contradiction (Christian v. Objectivist), but I cannot ignore the validity of my born again experience, and the continued (but confusing) experience of God's presence in my life. If you have not experienced God's love for you personally, ask him to reveal himself to you. Okay back to the Bio:
Professional Background:
-Experienced as a Controller, Board member, & Change agent with companies ranging from 0 to 50mm in sales.
-Created the infrastructure needed for several companies to pursue aggressive growth models.
-Helped with an IPO: Changed the revenue recognition method, changed the company's fiscal year, & chaired the audit.
-Bachelor Accounting from Franklin University; Columbus, Ohio; April 1989.
-CPA earned in 1991.
-Black belt in Tae Kwon Do earned in September, 2007
Personal Background:
I'm very interested in Sports and new experiences.
I change "obsessions" about every 3 years; so I've become adept at (then abandoned) many different activities, including:
-Golf
-Football
-Sketching (art)
-Skiing
-Biking (Toserv)
-Running (1/2 in 1:45)
-Bodybuilding
-PowerLifting (350, 500, 465)
-Auto Racing
-Volleyball
-Guitar (I'm a guitar teacher with 7 years exp)
-Who knows what's next!
Languages
Areas of Expertise
Small business startup and management, Business Development, Web development, Project Management
An idea worth spreading
Freedom!
We must (at much cost if necessary) honor the individual freedoms of all individuals. I very much believe that God is real (see bio above) and I don't see him marching down from heaven to set things right.
I must, therefore, conclude that God honors the freedom of his creation above all things, at least for this season we're in. And since God honors freedom that much, I must do the same.
Nations (religions, and individuals) have strayed into error and destruction when they inhibited freedom of thought and deed.
The expression of freedom (except when that expression causes direct harm to others), should be encouraged and defended, and I do encourage and defend freedom in my circle of influence.
Blah blah blah, moving on......
I'm passionate about
Helping the small business community; especially those who wish to expand and provide jobs. i created Small Company Tools.com and Projected Financial Statements.com to help businesses on nationally.
Universities
Talk to me about
Religion
Politics
Environment
Business
Management (including parenting)
Personal development
Sports (Not spectator sports. Participation in sports)
Economics
Taxes
The nature of reality.
People don't know I'm good at
twirling a pen. I started doing it after watching Top Gun many years ago, and the habit sort of stuck with me. I can't do it with drum-sticks or anything cool like that. Just a pen!
My TED story
A friend I admire suggested a TED video on the role of algorithms in our culture and I was hooked!
I use algorithms in my Projection Templates, and I'm aware of their increased use on Wall street, but I didn't give consideration to the social effect of algorithms on our culture. Thanks TED! for producing this and other videos that have inspired thought and effected a small paradigm shift.