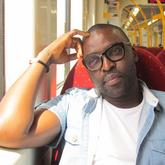 Januario Jose
Curator @ TEDxLuanda, www.jano.co
Bio
Januario Jose (Jano) Artist and Designer, founder of Coconote Studio, a design and branding communication agency, spreading the word of visual communication, visual culture to help communities get the best of the creative industry. Graduated with honors in Design Studies in 2005, from London Metropolitan University former Guildhall University (London - England).
Art Direction, Branding, Illustration, Characters Design, Fashion, Graphic Design, Typography, Publishing, Social integration and Education are the main areas of expertise, as these areas leads to a full engagement with people which the touching point are to elevate the awareness of how design can make a substantial difference in people's lives.

I been involved in different projects such as D&AD degree show, Guildhall
University Summer Show, Royal College of Arts by YCN, also working in different design and branding development projects worldwide.
Languages
TED Conference
TEDActive 2012
Areas of Expertise
"Branding" "Graphic" "Project Managing" "Illustrator" "Art Direc
I'm passionate about
Design and innovation that engages directly or inderectly with the people to make different in a positive way for a better tomorrow.
Universities
Talk to me about
The best ideas that has functionality and re-organise the world in a such way that adding one to two does not make to three and that transform positively the universe without compromise lives.
People don't know I'm good at
Speaking issues that I have passion, social engagement, design, branding, innovative ideas that create order and been a person.
My TED story
I discovered TED through a community social website back in 2008, and since then I been a active user and been there since, this encounter leads me to start thinking to became an ambassador of TED and help spreading the word in this side of globe.
Luanda is a very exciting and moving city, as the country moving forward to its best ever reconstruction and development of new infra-instruction, its good to get the best around the globe and share with all, this way they can have the opportunity to get connected with universe by this innovative, inspiring window of mind blowing sources, TED.
By make this amazing mind spinning event we are actually help our communities get on the spotlight in accordance with TED Ideas Worth Spreading.