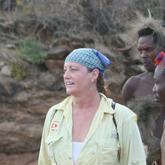 Amy Culver
Co-Founder - Director, Busara Project www.busaraproject.org
Bio
Facilitated Training Programs for consideration:
2005- Present Africa
- Tajeha, Tanzania (Tz), Women's Group: The Importance of Women's Empowerment.
- Moshi, Tanzania (Tz), Chamber of Commerce: Empowering Indigenous Tourism.
- Moshi Disabled group: Working Together to Create Group Strength.
- Maasai women's group: Creating Revenues While Maintaining Indigenous Traditions.
- Maasai men's workshop: Empowering Women to Strengthen Tribal Policies.
- Lagos, Nigeria: Chevron Group: The Importance of Cultural and Tribal Etiquette.
- Lagos, Nigeria: Chamber of Commerce: Celebrating Tribes.
- Lake Eyasi, Tz., Facilitator for Cultural Preservation: Working with Datoga and Hadzabe tribes on methods of creating alliances while maintaining cultural authenticity.
- Lake Eyasi and Lake Natron, Tz., Mediator: Worked with Datoga and Maasai to empower chief-to-chief communications for tribal disturbances.
Relevant Experience:
Busara Project www.busaraproject.org Key West, FL
-Co-Founder of the Busara Project a 501c3 non-profit dedicated 2010-Present
to the cultural preservation of tribes that are disappearing.
-Designed, developed and implemented a program to share cultural experiences
through social media.
-Lived with Maasai, Datoga and Hadzabe (busmen) to document their oral history.
-Developed SMART Technology for grades 3-7.
-Created and trained a working Board of Directors.
Consultant W-Hospitality Group Lagos, Nigeria
-Hospitality consultant with a focus on feasibility studies. Contract 2008
-Collected current demographics and projections for domestic and foreign investors.
-Designed projects, implemented business plans, trained owners and staff.
-Develop, branded and franchise restaurants.
-Train Nigerian Staff.

Business Developer and Information Research Director Key West, FL
Mote Marine Lab Contract 2007
-Created a national branding campaign for a marine biodiversity lab that emphasizes
science-based conservation and sustainability.
-Developed an accelerated marketing plan for the new lab in Key West.
-Expanded Fundraising and Public Relations
-Worked with Mote Marines eco-fish farm specializing in American Sturgeon caviar
development and distribution.
-Revamped Business and Marketing Plans, and Employee Training
Key West Havana, Inc. dba Mangoes Restaurant & Catering Key West, FL
Co-Owner / Vice President for National Marketing & Development 1991 – 2006
-Developed a 350-seat fine-dining restaurant, catering company and nightclub.
-Responsible for annual sales of 3 million.
-Developed all marketing, hired/fired staffing of 100 multicultural employees, public
relations and menu development.
-Created a world-class training program now used by over 15 businesses.
-Annual budget, payroll, inventories, contract negotiations and community relations.
Selected Awards:
Athena Award, an international award for professional excellence, community service and leadership skills, 2000
Zonta Humanitarian of the Year Award, 2001
Key West Business Guild, Humanitarian of the Year Award, 2000
Key West Restaurant and Bar Association, Lifetime Achievement Award, 2003
Florida Keys Women in Business Award, 2003
National Restaurant Association, Neighbor Award
The James Beard Foundation, 2000
Selected Accomplishments:
AIDS Help, Inc., Board of Directors, 1998-2000, Honorary Board of Directors, Lifetime
Florida Keys Tourist Development Council, Board Member, Advertising Chairperson, 2000-2004
Key West Chamber of Commerce, Board Member, 1st Vice Chair, and Governmental Affairs Committee Chair 1999-2004
Key West Restaurant and Bar Association, Co-Founder, President, Board Member 1999 – 2002
Pineapple Program, Co-Founder, A training program developed to educate local residence on the importance of hospitality to the overall economy. 1999-presen
Areas of Expertise
Explorer , Business strategy, Hospitality & Tourism, Humanitarian Actions , Business Consultancy, Cultural Preservationist