Nominate
Each year, we award the TED Prize to a leader with a bold, innovative idea for global change. The TED Prize winner receives $1 million, and the support of TED's global community, to wrangle this idea into a reality. The process begins with your suggestions...
Nominations for the TED Prize are now open.
We search year-round for inspiring thinkers and doers with big ideas that could send ripples of change into the world. Do you have that kind of inspiring idea? Or know someone who does? Use the nomination forms below to tell us more about who you think should win the next TED Prize.
Nominate yourself
Nominate someone else
---
Who can you nominate?
TED Prize nominees can be activists, scientists, artists, educators, entrepreneurs, technologists — you name it. The ideal nominee is a visionary who thinks big, and a strong leader with the skills to make things happen. You can nominate yourself. You can nominate a colleague, a mentor or a friend. You can nominate someone whose work you admire from afar, even if you've never met.
---
How is the TED Prize winner chosen?
TED Prize nominations are considered year-round on a rolling basis. All nominations are read and researched by our team in detail. About 100 nominees become semi-finalists, and 15 make it to our finalist round.
For finalists, this is not your typical grant-writing process. We work with each finalist and push them to dream bigger. Many finalists — even those who don't become TED Prize winners — say the process helped them grow and sent them in new directions they could never have imagined.
The TED Prize winner is selected from among the finalists by a panel of leading members of the TED community. The TED Prize team then works closely with the winner to help them create an execution plan for their wish and to present their idea in a compelling TED Talk at our annual conference.
---
What is the timeline?
The 2016 TED Prize winner has already been selected. Learn more about Sarah Parcak's TED Prize wish, Global Xplorer.
We are currently accepting nominations for the 2017 TED Prize and want to hear from you. Please submit your application by August 31, 2016, to be considered. Expect to hear from us in late September on whether your application is still under consideration. Any applications received after the deadline will be considered for the following year's TED Prize.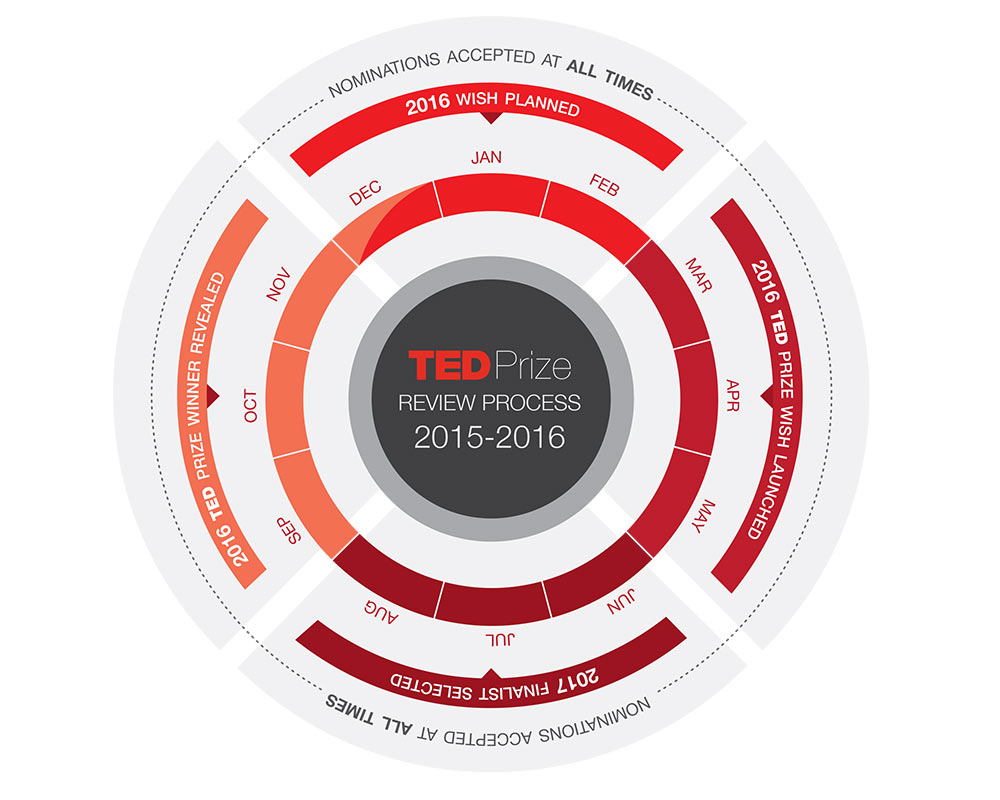 The seasons of the TED Prize nomination calendar:
Ongoing: Nominations are open; nominees are considered on a rolling basis
Summer: Finalists are selected and asked to formulate their wishes
Fall: A TED Prize winner is selected and revealed to the world
Winter: The winner's wish execution planning begins
Spring: The TED Prize wish is launched in a talk at the annual TED Conference