The TEDx platform is available to all, no matter what their resources and economic status. Through the work of passionate organizers, TEDx events in the developing world have brought global perspective and a sense of possibility to underserved communities.

TEDx initiatives
Several TEDx initiatives are devoted to cultivating successful events in the developing world:
TEDx in a Box offers everything needed to host a TEDx event (a projector, TEDTalks, recorder, etc.) all in one convenient rolling suitcase-sized box.
TEDx Activators Program offers a mentorship exchange between seasoned TEDx organizers and potential TEDx organizers.
Events in the developing world
Event hosts share their stories
TEDxKibera
In a shanty church in the middle of a slum in Nairobi, there was TEDxKibera -- a celebration of people and new ideas.
Acumen fellow and TEDxKibera organizer Suraj Sudhakar first introduced TED to the youth of Kibera by showing them TEDTalks. After seeing the impact these talks had, he knew a TEDx event was the next step to showing them possibilities outside of what they knew.
Suraj's vision for his TEDx event was to spark discussion in the community on themes other than HIV/AIDS and poverty -- subjects commonly associated with Kibera.
Live speakers included Tonee Ndungu of the Kenya Wazimba Youth Foundation, Otieno Gomba, founder of Ghetto Art, a studio for Kibera's artists, and software developer and tech blogger Wilfred Mworia.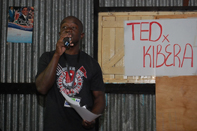 "Even this smaller event held in the middle of a slum, in a shanty church building, surrounded by the dirt and grime of Kibera ... there was still great inspiration, and great ideas." -- Wilfred Mworia
TEDxShekhavati
Masarat Daud, founder of 8-day Academy, a literacy program in India, was determined to bring TEDx to her hometown of Fatehpur, a tiny village in the Shekhavati region of central India. Despite opposition from village elders, a swine flu outbreak and logistical issues, TEDxShekhavati attracted over 1,000 attendees.
Daud initially encountered problems when she booked a community school as the location: "Some of the men in this cabinet decided that TEDxShekhavati was a threat to the village culture and should not be allowed. They also found it un-Islamic for a girl to be single-handedly organizing this, for her to be on stage in front of many people and to be talking."
Her speakers were those from the small villages and towns of India with amazing success stories: Samar Singh Jodha, who spoke on the importance of exploring unusual careers and supporting talent; Aman Nath, who spoke about preserving the heritage of Shekhavati; Amrita Choudhary, praising the courage of the ordinary woman.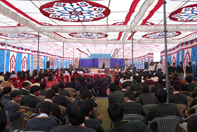 "The educated men in the community supported the event and praised it as a big positive change led by 'the daughter of the village.'" -- Masarat Daud, organizer
TEDx1KG
Inspired by the 1KG More initiative -- which advocates for travelers to rural areas in China to distribute books, pencils and other necessities -- TEDx1KG brought the engaging format of TED to rural Chinese children.
Six speakers traveled together to hold the event at the Donglian Primary School in Lijiang, Yunnan Province, located amidst high mountains and a four-hour trip from the city center.
Each speaker presented their talk in a story-like format, engaging students with ideas and mental pictures; Qiongling Zhang from Taiwan told the story of her life through a series of dreams and adventures. These live TEDxTalks, coupled with TEDTalk videos, gave local Lijiang youth a window into another world of possibility.