Nominate an individual — or yourself — to envision and execute a high-impact project that can spur global change. Our TED Prize winner will have an ambitious wish — and the vision, pragmatism and leadership to turn it into reality.
Every self-nomination will include a proposal for a world-changing and achievable wish.
When nominating an individual, the nominator is welcome to approach the nominee about drafting a potential wish.
If a nominee is strong, and no wish is included, the TED Prize team will reach out to them directly during the short-listing process.
Nominate an individual   Nominate yourself


Please note that you will be prompted to sign in or create a TED.com account to access the nomination forms.
Nominations for the 2015 TED Prize will close at 11:59pm ET on Monday, March 31, 2014.
TED PRIZE TIMELINE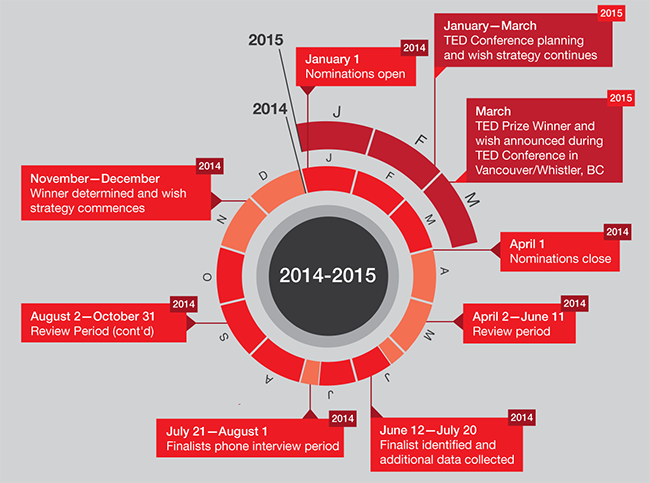 KEY DATES
January 1: TED Prize nominations open
April 1: TED Prize nominations close
April 2 – June 11: Review period
June 12 – July 20: Finalists identified and additional data collected
July 21 – August 1: Finalist phone interview period
August 2 – October 31: Review Period (cont'd)
November - December: Winner determined and wish strategy commences
March 2015: TED Prize wish announced during TED Conference
NOMINATION REVIEW PROCESS
The TED Prize team will review all nominations from all sources in order to:
Narrow applicants down to 100 applications
Research and collectively review the final 100 applications
Further narrow the list to 30-40 TED Prize finalists
We will reach out to nominees directly if their applications progress to the finalist stage, to request the following:
Details of their TED Prize wish
Details of their execution plan
Details of the team involved
Details of a one-year deliverable plan
Finally, the winner is selected by a jury drawn from leading members of the TED community.
The winner of the 2015 TED Prize will be revealed when they announce their wish from the TED2015 stage in Vancouver, BC.