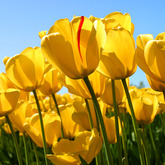 human,
TEDCRED 50+
This conversation is closed. Start a new conversation
or join one »
Do you have "Patience"?
Second of those 16 Guidelines ... 'humility' generated good discussion

What does 'patience' mean to you?

Does it rate highly in your personal attributes?

Is it an antidote to anger?

Is it a quality that would benefit; a sensible guideline for life?

Poems, links, antidotes or humour are all greatly appreciated!
Closing Statement from Kate Blake
Miuch thanks everyone for you valuable input, especially Dara! Eric seems to have deleted his very worthwhile contribution? Thanks TED for the forum.

Most of us admit 'patience' is a challenge ... those with patience could have given us a few more clues ... oh well that's another conversation I suppose.

It was fun ...