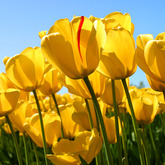 human,
TEDCRED 50+
This conversation is closed. Start a new conversation
or join one »
Does 'Humility' have value?
Humility is the first of "16 Guidelines" suggested for a more fulfilling life.

"Humility or humbleness is a quality of being courteously respectful of others. It is the opposite of aggressiveness, arrogance, boastfulness, and vanity. ..." twopaths.com/humility.htm

Please share your personal interpretation of the term - as everyone has a different perspective?

How does it relate to your life, and affect others?

Is it a quality that would benefit? a useful guideline for you?

Poems, links, antidotes or humour are all greatly appreciated! This TED Talk advocates humility in design ... another interesting take.
Closing Statement from Kate Blake
Great discussion - thanks everyone for joining in, and to TED for providing the forum!

Most of us agree 'humility' is a quality that we aspire to - but two very strong voices claim it is not a useful quality at all - that self-promotion is needed in order to succeed in today's highly competitive world.

Is it a useful guideline for life - we all have choices! And I certainly aspire to it fueled by my great admiration for those with genuine 'humility'. But have no doubt that it is difficult to achieve.