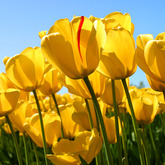 human,
TEDCRED 50+
This conversation is closed. Start a new conversation
or join one »
Share your 'wishes' in seven words? Go!
Strong heart-felt wishes such as world peace, good health, etc.

A continuation of the constructive fun we had with ... http://www.ted.com/conversations/3924/what_s_your_short_story_in_6_w.html
Closing Statement from Kate Blake
Thanks to all those who joyfully participated and especially for TED for providing the forum!

If you look at all of us - nearly 20 - from all parts of the world, all races, religions and non-religions - it is a really great cross-section of TEDsters. Which is most exciting as my understanding of very strong sincere heart felt wishes, this is just another term or generalisation for PRAYER! So thanks for visiting the TED congregation and for participating so fully.

May all these sincere wishes/prayers be fulfilled immediately!

May world peace prevail and may we all take kind care of each other, nurturing our growth in this fertile environment!