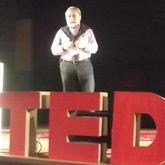 TEDx Zapopan speaker,
This conversation is closed.
Una visiòn estratègica contra la violencia.
Its enough.!!! No more violence, no more fear, no more apathy, no more victims, no more violence in all levels of our lives. We can act strategically and intelligently
against any kind of violence: In the country, any country, in the city, any city, at home, any home, any person. Its enough. We have to take radical means to radical solutions. Sensible solutions and clear definition of the problem.