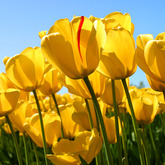 human,
TEDCRED 50+
This conversation is closed. Start a new conversation
or join one »
War Heroes - do we do enough?
There have been fiery debates about the second amendment, guns and wars, etc here on TED but this debate is about those who joined up, trained and then served overseas.  

The young heroes who feel ten foot tall, are strongly patriotic believing the fear and propaganda circulated about defending their country.  The ones who served, risked or gave their lives; or returned war damaged to try to adjust to a mundane life.

This debate is about we do enough for them on their return?

Enough to repay their kindness for the  risks they have taken, for the damage that defence personal serving in an area of conflict suffer.  For even if we don't believe in weapons or wars these people have served us selflessly and they usually return with psychological if not physical challenges.

Please offer any suggestions of how we can/should support them?
Closing Statement from Kate Blake
Too many idealists judge those who serve as also being responsible for war and this is NOT so!  Law makers start wars because they are courted by the greedy war mongers who profit hugely from selling the weapons, etc. Someone below referred to war as a Big Racket!

But the point is whatever we think of war, and I am a pacifist, these people do risk their lives, sacrifice their health in order to 'protect us'.  Their training rewires their brain to immediate response "kill or be killed", then the conflict cements that.  They return with limbs missing, with Post Traumatic Stress Disorder - it is doubtful that they can ever return to the person they were before joining and their family has to live with these repercussions.

Personally I would lie to see a health warning at the top of every enlistment sheet!  "War will destroy your health, kill your soul.  Nobody will ever understand the depths of sadness that you have experienced and you will struggle to fit into society again".

Saying a genuine 'thank you' is a good start.  But we all need to campaign our governments to provide better services to these heroes. Support them and their families in any way you can and encourage them to engage in community or voluntary work where possible.  Especially something like this with team effort.

http://www.ted.com/talks/jake_wood_a_new_mission_for_veterans_disaster_relief.html

THANK  YOU!