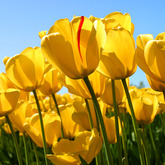 human,
TEDCRED 50+
This conversation is closed. Start a new conversation
or join one »
$500 Billion - can this solve the big problems?
A solution to that quandary of how to solve the Big Problems?

Bill and Melinda Gates set up a philanthropic venture/idea called "Give it Away" where more than a hundred billionaires have already pledged half their wealth. They have set up various research and charities to tackle malaria, polio, hunger, etc and these people will also lend their expertise to source further solutions.

An Australian billionaire has just pledged five billion with his families consent. These people are reporting how well they feel after donating, and id like to know if their health improves also as recent research indicates that helping others increases all the good things in our body and decreases things like cholesterol, etc?

this is a very substantial way to seriously address those big problems that other conversations are discussing.  Just really wanted to share this good news and welcome your comments and hopefully more postings of Good News! 


Please Share how you personally are making our world a better place, or your ideas and congratulations that this is actually happening?
Closing Statement from Kate Blake
Great participation, thanks everyone, and TED for the venue!

The most impressive part of this discussion was some sharing how they help others in order to make our world a better place.  This is the best we can do, our own personal contribution in our own localities.  What are you doing?

Was quite surprised by the number of people who were doubtful about the ability of more than a hundred billionaires to manage their funds!  Wonder how they became billionaires?

Some offered interesting projects with questionable costs, but again I would imagine that this group would have their research, projects and organisation well under control.

It would be great if we could all really rejoice that they are making such a huge effort and contributing so much expertise as well as funds - that this could happen within our life!  Well done "Give it Away" and all those involved!