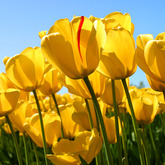 human,
TEDCRED 50+
This conversation is closed. Start a new conversation
or join one »
Should parents set their children up for life, or empower them to be more independent?
This recently came to mind as I recalled how many 'new' Australians worked incredibly hard in order to educate their children. They knew education would be a key to survival in this new homeland but it didn't stop there.

They also bought their first car, first home, paid for huge weddings bringing family from their home country (Italian and Greek immediately come to mind). One daughter a solicitor complained to mummy, a cleaner, that the house wasn't big enough or in the right suburb. Mummy kept working to buy the right house ...

Others teach their kids right from wrong and often don't have the finances or diligence of these new migrants to pay for everything.

We each grow up differently according to our environment and expectations.

How did you grow up? Please share your story of what happened for you and the generation before and after you? Are there any lessons here?
Closing Statement from Kate Blake
The words that arose were guidance, education, empowering - a "Balance" of the above.

Much thanks for your participation and to TED for the forum!