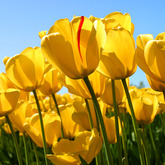 human,
TEDCRED 50+
This conversation is closed. Start a new conversation
or join one »
Breast Cancer - radical solutions!
Read about Miss America who has decided to have a bilateral mastectomy, both breasts off, due to a strong family history even though she has no signs of the disease?

More and more women are choosing this radical solution: is it fear of death or the realisation that life is much more important than appearance or beauty.

Then there are those diagnosed with breast cancer and have to have one off anyway, but decide to have both taken in order to avoid extensive radiation and chemo therapy afterwards. It seems a very definite choice about quality of life being more important than having lengthy drawn out treatments which take a toll on ones life at every possible level for five to ten years ...

Have you or anyone you know chosen the knife over poison?

how do partners, or men in general, feel about it?

Is this an idea worth spreading?
Closing Statement from Kate Blake
Much thanks to everyone who particated, a small but worthwhile discussion. Much thanks Peter for sharing your family history. And special thanks to Linda and Alicji for your views.

Treatment is a very personal choice and one made after obtaining detailed information from the 'experts'.

Good luck to all those confronted with such choices ... may your life be long and healthy.