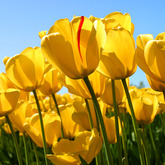 human,
TEDCRED 50+
This conversation is closed. Start a new conversation
or join one »
Good Heart Awards! Publically acknowledge acts of Kindness!
Some of these conversations are a bit heavy so let's lighten and brighten ourselves up a bit more by recalling others (or our own) genuine acts of kindness.

I'd like to sincerely thank my younger brothers soccer mates who helped me take young abused children out on weekends during the 80's. They gave their time selflessly and those kids had so much joy from it. They have gone on to be good husbands and fathers, so maybe it helped everyone ...

Bill and Melinda Gates, we know of many with excess wealth, but how many really step out there to benefit others.

My great aunt who was just there for everyone, she listened and laughed and loved - thank you!
Closing Statement from Kate Blake
I'd prefer to think people just missed seeing this conversation rather than that they had nobody to publicly thank. Or maybe they were just too busy discussing the Second Amendment?

Much thanks Fritzie and Feyisayo for joining me - it's their loss.

Thanks TED for the forum.