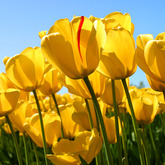 human,
TEDCRED 50+
This conversation is closed. Start a new conversation
or join one »
Your Mission in life: have you found it?
This arises from another conversation currently running about potential.

But do you know your mission or purpose in life?

If so how did you find it?

Is it easy to fulfil?

What have been a few of the trials and tribulations along the way?

Please share as much as you are able about the purpose of your life? And may anyone joining this conversation be kind to those whose whose purpose or meaning of life is very different from yours.

Let's just enjoy a smorgasbord of differences.
Closing Statement from Kate Blake
Much thanks to those who participated, I hope it provoked some thought?

Some seem to know their purpose from a young age, some find it as they wander down the path of life, for others it seems to evade them. But remember everyone of us causes a ripple effect with everything we do, think and say - so lets try to be aware as we journey through life, be kind and don't cause strife!

Thanks TED once again for this forum.