About TEDxChange
TEDxChange is a yearly event hosted by the Bill and Melinda Gates Foundation that addresses themes of health and development. This year we are launching the TEDxChange Pilot Program. Twelve TEDx events from around the world will work together to curate their own TEDxChange sessions at their events. The topics will be vast - ranging from vaccines, polio, malaria, HIV/AIDS to maternal/newborn child health, education, and agricultural development.
About TEDxChange and the Pilot Program
TEDxChange Pilot Program Talks
We encourage you to spread the spirit of TEDxChange to your local communities. Here are some ways you can share these ideas :
If you are a TEDx organizer, share the spirit of global change by playing a TEDxChange talk at your standard TEDx event!
If you are not a TEDx organizer, share TEDxChange talks with your networks, and engage them in discussion about the ideas that excite you.
Here are some great TEDxChange talks to choose from:

Meera Vijayann
Find your voice against gender violence

Elisa Lopez Varela
Science on the spot to defeat diseases of poverty

Gonzalo Fanjul
The silent emergency of child poverty in Spain

Utibe Effiong
My story for vaccines

Thomas Sutton
Closing the gap -- designing for real life

Carolin Silbernagl
Embedding the fight against AIDS into our daily digital life

Bisi Alimi
There should never be another Ibrahim

Valentino Achak Deng
Hope and impediments

Isaac Holeman
A phone in the hand of every health worker

Rachel Mwanza
Des rues de Kinshasa aux tapis rouges des Oscars

Dr. Christopher Charles
The lucky iron fish

Patrick Ndimubanzi
To build a country

Fatima B Muhammad
Empowered women will change our world

Paola Gianturco
Women who light the dark

Mildred Apenyo
Women and Spaces

Raymond Besiga
Technology and the sharing economy. An African perspective.

Irene Ikomu
Resolutions

Gustav Praekelt
What is your Moonshot

Mandy Pakkiri
Building the next generation of Africa's women leaders

Judy Hofmeyr
Could a Mobile App help fight EbolaTITLE](https://www.youtube.com/watch?v=mvV5BJeDHmo)

Sisonke Msimang
Mad at Mandela
---
Organizers taking part in the pilot
These TEDx event organizers are piloting the TEDxChange Pilot Program in their communities. Visit their event pages to learn more.
We look forward to hearing all thoughts, questions and feedback as the TEDxChange Pilot Program develops. Please feel free to contact TEDx Global Partnerships Development with questions and comments at Felicity@ted.com.
TEDxChange 2013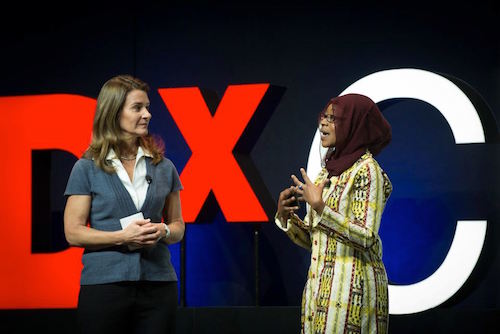 TEDxChange 2013 took place on April 3, 2013 at The Gates Foundation headquarters in Seattle, Washington. The event, themed "Positive Disruption," invited speakers to discuss and explore fresh perspectives on global health, development and education. Learn more